At 97, for some reason, Stu Klitsner has started having some health problems.
Indeed, the last year has been a bit touch-and-go for Stu, my beloved cousin, now the last one of his generation standing and the patriarch of an extended family of cousins and cousins' children and even cousins' children's children. An unforgettably radiant person, entirely present in love with whomever he's with, Stu has had a decades-long career with major musical and dramatic roles on stage and a basketful of supporting roles in TV and film, where his devastatingly handsome, trustworthy face, gravelly voice, and almost vaudeville-style grace won him a variety of roles where something extra to the "good guy" roles was needed. This good guy has been a fire chief, a professor, two ministers, two rabbis, a coroner, and countless other authority figures whose well-meaning solidity could instantly communicate decency and likability to an audience.
Stu's only granddaughter's wedding took place in Napa, California Saturday evening. The bride's dream was that her grandfather, who, after all, only has one granddaughter, would bring his signature leading-man singing voice to bless her union. Indeed, the bride told me on the phone she believed more of her friends were coming to meet Stu at the wedding than to celebrate with her, and there was nothing to do but agree. Stu's a personage.
He almost didn't make it. Yet a series of hospital stays and emergency-room visits over the past year kept him going (and he has remained mentally as fit as ever). Sacralizing both the ceremony and the reception from his wheelchair, where he looked most of his 97 years, he somehow crooned, in a sonorous voice that sounded 45, three of the Broadway tunes for which he'd become famous. He sang with tenderness, force, and infinite love to his granddaughter and her new groom.
It's always surprised me that Stu is self-taught as an actor. He's never used the language of "intentions" or "beats," nor has he broken down and analyzed scenes in the modern style. The son of an exuberant pianist who played piano professionally to accompany silent movies, Stu has gone on instinct, which seems never to have sent him a false note.
He did it.
He willed to live to sing at his granddaughter's wedding. The ultimate people person, he also saw the wedding as an opportunity, perhaps, to say goodbye to the many cousins he loved.
You probably have stories very much like this one, cases in which a loved one miraculously defeated the odds and held on till the last child could catch a plane, or she could make that graduation or hold her first grandchild. It is powerful to see the will to live to reach a specific goal right before you, to see the will make a deal with the body. And, in this case, Stu mopped up his weakening body on those nuptial stages. That spirit – whether it stems from the power of Stu's boundless love or the professionalism of the actor for whom the show must go on – shows us what's possible, even in a human body.
Build your skills in working with groups in our upcoming training and certify in the unique tool that helps others transcend themselves through the power of the love they have (sometimes very deep down!) for each other. You'll help families come together in the face of the hardest moments of their lives and build their strength for what comes. 
For many people, a conversation on Zoom is really helpful as they get a sense of whether THE HUMAN JOURNEY® Conductor Training is right for them. Schedule a conversation with me. I look forward to talking with you.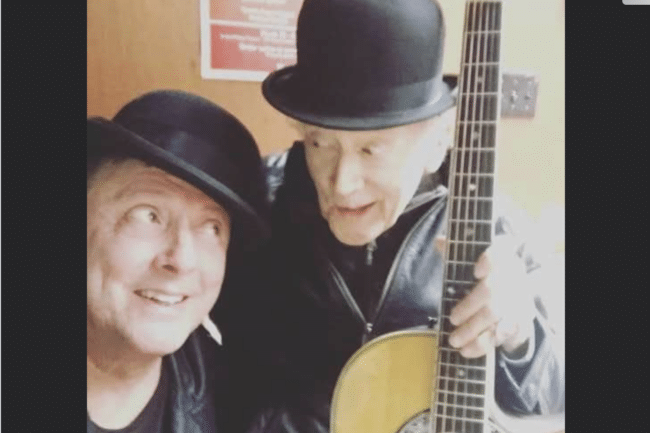 End of Life
The will to make it to a loved one's graduation or wedding, or to the birth of a new baby, somehow compels the body to obey the will. Stu Klitsner was going to sing at his only granddaughter's wedding, come hell or high water.
Read More »