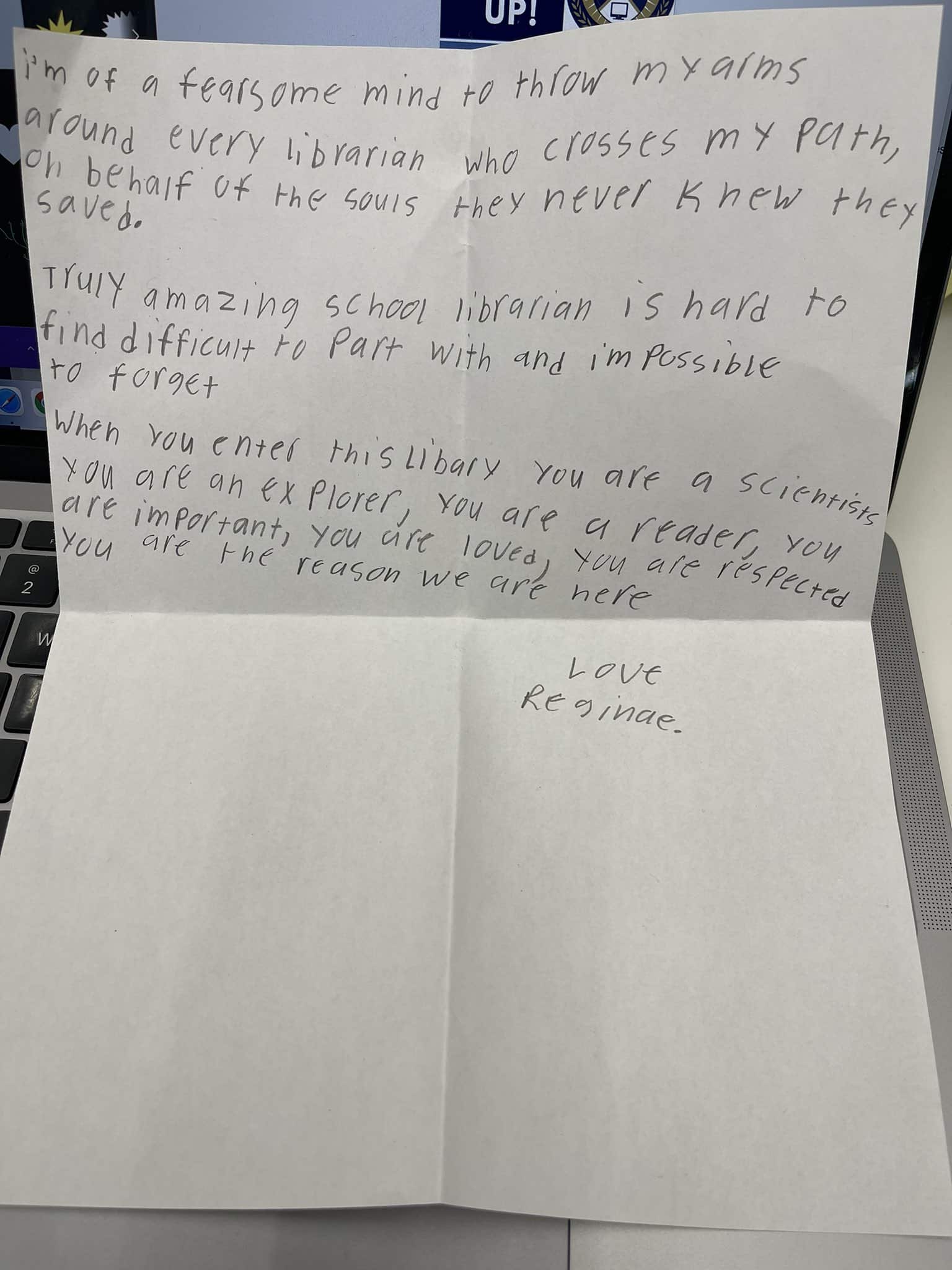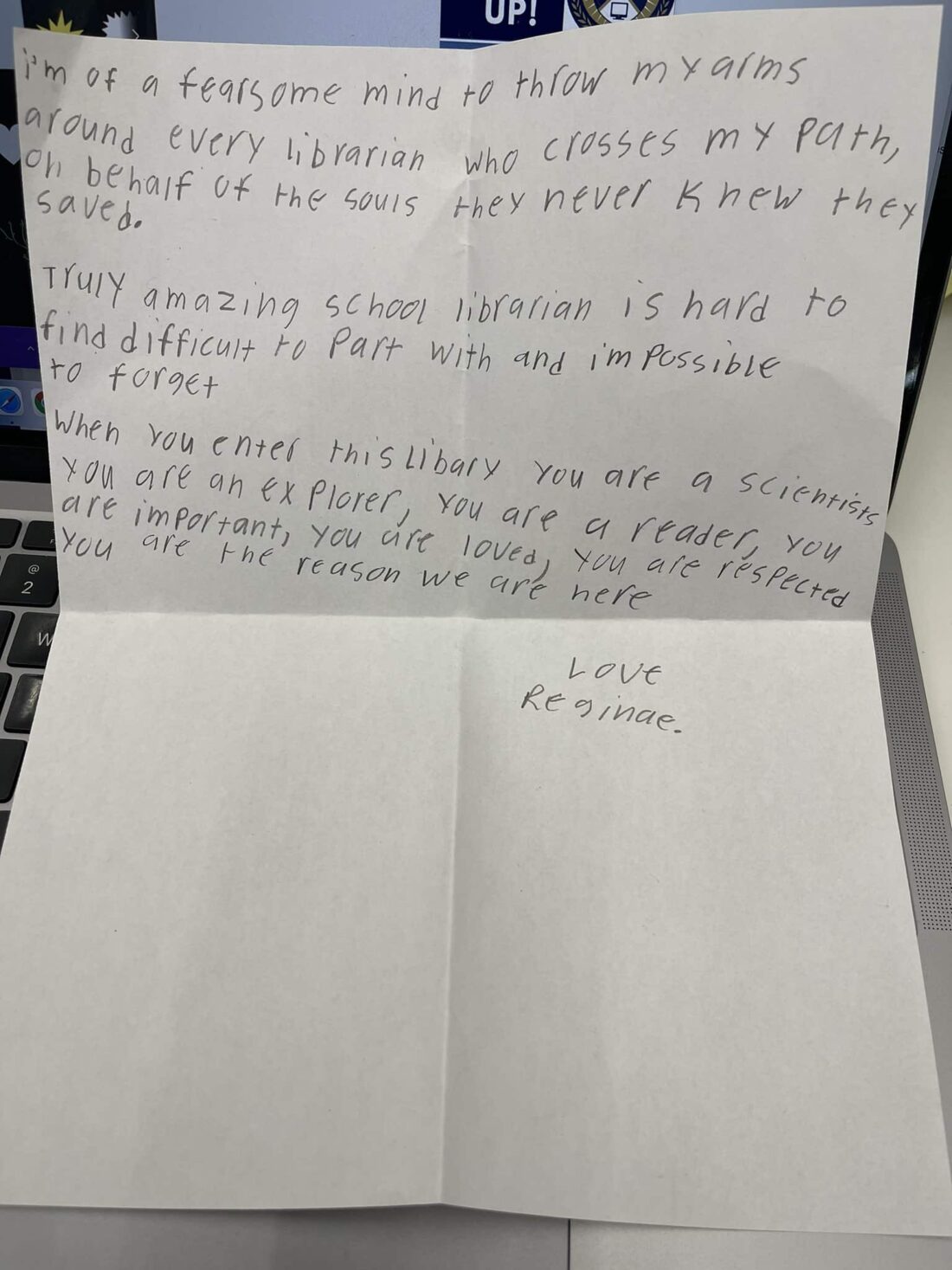 Leave It at the Door
You likely care about someone who is, or will be, grieving. I'd like you to give you some thoughts about how to help.
Please have a look at this note a school librarian found outside her front door or slipped underneath. Whose day wouldn't a letter like that make?
Reginae's letter got me to thinking about the skills people need in order to be with those who are grieving.
In the grief workshops I do for organizations, part of what I teach is how to be a presence who is not trying to mitigate, fix, or remove others' grief, but rather a container that helps them bear it.
This is essentially practicing a way to be there usefully rather than harmfully.
Having thought about Reginae's gesture, I'm going to add a new practice.
In a way, it's how also to not be there, at least in terms of creating social obligation for someone who, grieving, has very little energy to give back.
Reginae—the girl who wrote this love letter to her school librarian—sealed it in an envelope, tucked it under the welcome mat or slipped it under the office door, then ran like the dickens!
Reginae's got a basic skill going we all could learn from.
Normally, when we give, we do so as part of a larger social contract that involves reciprocity. Someone gives us a compliment, we say something pleasing in return.
But when someone's energy is siphoned into grieving, ordinary social reciprocity is simply not possible for a very long time. As you may have experienced yourself, when you're grieving, you may not have the energy or the perspective even to ask how your friend or colleague is in return.
So another key skill for us to get better at when we're trying to support someone who's grieving is suspending any expectations of reciprocity in friendships for whatever time it takes for someone to come back and do the "work" of friendship again — including reaching out, offering invitations, listening, offering support, being available for shared fun.
We need to learn to leave it at the door ... and run.
In Indian, Indonesian, and Puerto Rican cultures, gifts are customarily opened away from guests — in part to save face for the receiver. With the common practice in the United States of expecting a reaction from a gift or gesture at the time it is given, it's worth our taking a second look at the benefits of simply … leaving it at the door.
You make an offer in a firm, non-asking way. (The most they should have to say back is "no.")
I'll be dropping off a complete supper for you and the family Friday night at 5:30; all you'll need to do is warm it up in the microwave.
I'm going to bring fresh flowers every week this month unless you tell me to stop.
I'm going to come pick you up for lunch on Thursday. It's my treat.
I'm picking you up for a weekend at my house. Pack a book.
I've got an appointment for you for a massage at my favorite massage therapist's. Does Saturday at 1:00 work or do you need a different time?
I've been wanting to try this gentle yoga class. How about I pick you up at 6:00 and we can do it together?
Why It Can Be Better Not to Ask
Some people helping the grieving tend to ask for a lot of affirmation: Am I giving you what you need? Am I doing it right?
Or worse, they proffer the ever-present, "Let me know how I can help" or "I'm here if you need anything."
They put the burden on the griever to recognize what they need when they are already numb, depleted, or beyond the ability to put feelings into words.
If a griever is even able to name what they need, they then have to determine how to ask for it and face the risk of naming a need, only to have the person say no. That's a lot of work when you can't think.
Refrain from putting them in that position.
Instead, just drop off:
A baker's dozen of bagels.
A selection of candles.
Regular notes of love and support with the assurance that no reply is expected.  
A basket of healthy snacks.
A scented eye pillow or fleece throw blanket.
A beautiful journal.
A photo frame.
Food. Food. Food.
A phone call every other day, without fail, at 7:00 p.m. A voicemail message that expresses caring and "no need to call back."
Notice of a tree planted or a star named.
A basket of extra-special foods or foods traditional to the griever's culture.
A plant that needs very little maintenance with super-simple instructions.
A beautiful set of thank-you notes, consistent with the person's taste, for them to use in writing thank-you's.
Bath salts or a diffuser and essential oils in a scents you know the person likes.
Do not forget chocolate!
What do all these things have in common? They take time and consideration — all of which is done in your own time, without asking any of the energy or time of the griever. 
In other words, just don't make them come to the door.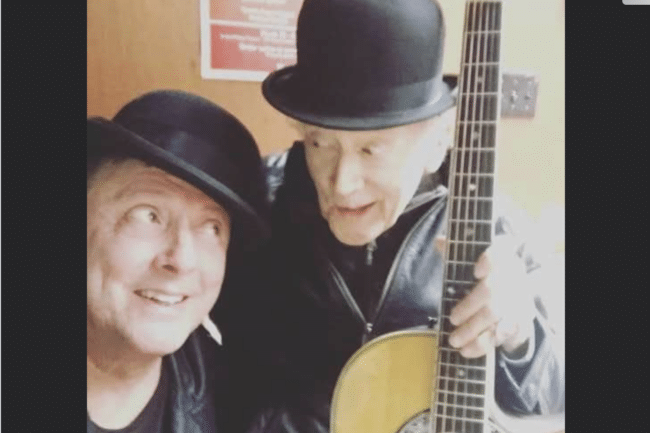 End of Life
The will to make it to a loved one's graduation or wedding, or to the birth of a new baby, somehow compels the body to obey the will. Stu Klitsner was going to sing at his only granddaughter's wedding, come hell or high water.
Read More »