Have you watched, as I have, the transition in many speakers' English in the last few years, as we've switched from referring to "human beings" and moved on to calling them simply "humans"?
For me, the abbreviated term still sounds odd but it does stress our animal nature; we are perhaps like "antelopes," "wildcats," or "snakes." There is no such thing—yet—as a "snake being."
Yet what either a "human being" or a "human" is, is a lifelong search and it kept coming up this week. A dear friend told me about the first meeting she attended of a spiritual discussion group whose opening topic was the little question, "What is a human being?"
And then Hank Kinzie, currently completing his training as a certified THE HUMAN JOURNEY® Conductor, described his work as a leadership coach as "helping executives to be human." Hank's description brought me back to how I once described the teaching of theatre directing to my college students … as basically "teaching people to be human in intimate relationships." (The intimacy is needed when you direct actors because you're talking about how other people look, speak, move, and otherwise express themselves and very often, you're asking for it to be other than it is. As you might guess, trust is necessary for this.)
Chaplains exercise their humanness with every patient or family member they meet. A patient is "one who suffers"; the patient chaplain is the one who can help them bear their suffering, emptying herself of, or softening, the alarm bells of her own spirit, emptying the mental and physical hall of everyday noise so as to be fully attentive to what someone else so desperately needs — to be held in deep presence. She grounds into her most basic (perhaps animal) nature, silencing her own thoughts, her biases about any "right" way to face the big questions, and receives the patient in, or on, the ground of their earthly co-inhabitance.
It is, perhaps (and metaphorically speaking!), a job for the chaplain's feet, in which grounding and solidifying into earthly presence, is the way.
Someone who dances with the patient? Someone who helps those newly immobilized? Someone who counsels a gymnastics troupe?
Close.
It's a chaplain who offers spiritual and emotional support to those engaged in "bodily activism," who, in essence, put their feet behind their words, and engage in activism and street demonstrations, or "movements," to protest policies or to advocate for new, more socially just ones. Recently, such activists and organizers have been involved in actions for such causes as Black Lives Matter and immigrant rights.
Though the term may be new, ScottBey Jones, who directs the Faith Matters Network in Nashville, trains chaplains in movement chaplaincy, helping them get on the ground and ready to catch those who need courage, a long view, or a touchpoint with their faith and hope. 
But the dancer image is also not far off.
If in seeing the term "movement chaplain" you connected physical movement (like dance) with chaplaincy, you're on track with Keely Garfield, who sees her work as a chaplain completely intertwined with her profession as a dancer/choreographer. In a feature on her recent choreographic work, "The Invisible Project," Garfield links the two: Both are simply "the work of being a human being." (Maybe Garfield didn't get the memo about the change to "human.")
Again, there is an unspoken relationship between the words "patience" and "patient" in "Invisible Project." The real work of a chaplain, Garfield says, is to almost become invisible. It comes down to how present she can be, how well she can listen. Garfield's being has been immersed in a Zen koan:
How is it when the tree withers and the leaves fall?
Body exposed in the golden wind.
"That could be the … theme of my life: Body exposed in the golden wind," she says. Observed one of her dancers of "The Invisible Project" — "a dance made in the context of COVID" —  "It's a lot to hold so many people's stories in your body, and so many people close to passing, or in crisis or trauma, in your body."
Being Human — With Other Humans
Ultimately, that's some of what training to conduct THE HUMAN JOURNEY does for chaplains, social workers, compassionate citizens, counselors, and clergy.
It helps you be there, a human settled and open to receive another being's humanness, in a structure that itself helps them to unfold in your presence and in the presence of those who love them but don't know how to express it.
Our tested, reliable structure supports both individuals and groups constructing meaning out of the worst times in their lives … using the building blocks of their own lives. In so doing, they find their footing going forward, through and past the hell of the moment, into a positive future that embraces them all. Use your feet and help them find theirs.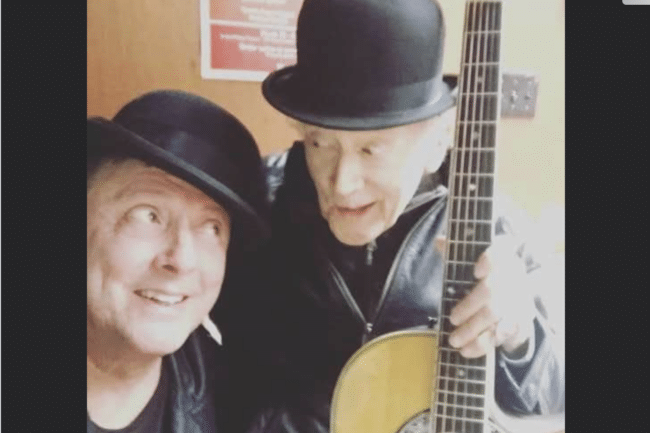 End of Life
The will to make it to a loved one's graduation or wedding, or to the birth of a new baby, somehow compels the body to obey the will. Stu Klitsner was going to sing at his only granddaughter's wedding, come hell or high water.
Read More »