At the Reflecting Pool
Grief is intimate. But it is not private.

Tuesday, I was profoundly stirred by the memorial ceremony at the Reflecting Pool on the National Mall in Washington, D.C., which occurred as the official count of those who have died from the coronavirus topped an astronomical 400,000.
The ceremony took place at dusk, that haunting, liminal time of day, when day itself dies.
Its elements were as basic as can be.
A procession to the edge of the Reflecting Pool, transformed into a memorial site with light sculptures, each representing 1,000 lives lost to COVID.
An opening prayer.
A brief speech by an official.
From a singer, words and the hymn "Amazing Grace."
Another speech by an official.
An invitation to silent prayer, accompanied by the Cohen "Hallelujah."
A pause, featuring two still couples, public figures, continuing to gaze at the Reflecting Pool.
A recession.
And then it was over, after maybe 15 minutes. Hardly an earth-shattering program.
But that's all it took, in its elegance and holiness, to consecrate the deaths of the many who have died since last March and to hold us all as collective mourners. Deaths, many of which have occurred under conditions that no one would ever want for someone they love, separated from anyone they know, family members' only hope of contact the hand of a stranger, a nurse, engulfed in protective gear.

It mattered to have a national ceremony to acknowledge our collective loss.
Of the 400,000 who have died of coronavirus alone in the past year, they have left perhaps 4 million primary mourners.
And then perhaps 40 million people touched by their grief.

The astronomical societal impact of that loss will mark us for generations. And that number does not take into account those who have died of non-COVID causes yet who still may have had no family member or friend at their bedside or those who had funerals disfigured by the realities posed by COVID.

That brief and thoughtfully devised ceremony, on Inauguration Eve, allowed us all to enter the space of recognized mourners, those who will need care around us, spiritual healing, and community.
As the incoming First and Second Couples turned their backs from the camera to face the Reflecting Pool, they stood in for us as mourners and allowed us to feel all we have lost and all we would have wanted for our dead.

And, as heart-stirring as her singing was, the words Detroit-area nurse Lorri Marie Key shared before singing "Amazing Grace" may have offered as much comfort.
Key reflected on the heartbreak that she and her fellow medical staff have felt as their patients died. She gave grieving families and friends the "key" piece of information, that someone who cared deeply was there at the crucial time and that their loved one's death was marked in the heart of someone who was there.

And, in addressing us as "fellow citizens," Cardinal Gregory called us to the collectiveness of mourning, that the lives that have been lost belong to us all.
The popular phrase "Together, Apart" has seemed a little disingenuous, a little too easy, for the time we are living in.
On the eve of the inauguration, I felt it to be true.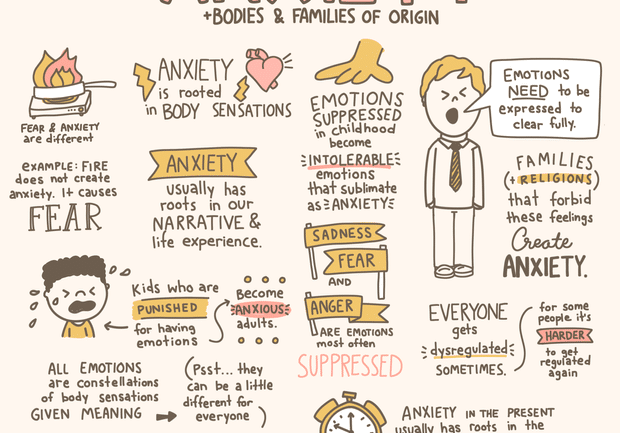 Activities & Tools
Lindsay Braman's example can open your mind about what sorts of both joy and utility you can create, simply by letting your own gifts out of the closet and using them in your work, in recognizing that, if a therapist/doodler can connect two passions, so can you.
Read More »