THE HUMAN JOURNEY® game experience proudly joins other Chicago inventions, like Italian beef, Cracker Jacks, Juicy Fruit gum, the skyscraper, and the Ferris Wheel.

Through our proprietary materials, trainings, and ongoing professional development, we have been preparing social service, hospice, addiction recovery, and senior services staff, as well as counselors, therapists, and coaches, to address the real needs families, "like-families," and support groups have for healing during difficult life circumstances.

We've shaped and refined the game materials, as well as the facilitation method and the training method, through a process of rigorous testing and ongoing improvement that began in 2014. By 2019, the manufactured game, the Conductor's Guidebook, and a proven facilitation methodology were ready for the public. Our first trainings were centered in organizations as well as made available to individual practitioners in the Chicago area through the retreat-style trainings we held at our home-away-from-home, Catalyst Ranch, and the Morton Arboretum.

The COVID-19 pandemic fundamentally altered how all of us grappled with our mortality, while separating generations of families from each other. It also required of THE HUMAN JOURNEY® company a fresh flexibility, not only in how we equipped and trained Conductors but in how they would be leading the THJ® Experience. We were no longer with our Conductors in person, and they were no longer in the same room as the people they were guiding through the THJ® Experience.

Although it was necessity that brought us to our new training model — one that emphasized learning by doing, with immediate personalized small-group feedback — we were profoundly impressed with the level of skill our Conductors had achieved before finishing their initial training. We also discovered, to our delight, that conducting THJ® over Zoom was equally meaningful for participants as in person and took no more time. Even as we return to a more "together" way of life, our Conductors now have options to include participants who cannot be in the room by a hybrid facilitation.

We are now preparing two tracks for our Conductors:

• one for those who want work closely with us through live webinars and coaching to become certified THJ® Conductors and, eventually, trainers; and
• another, at a more affordable price point, for those who would like to learn the methodology independently through a video-based course.

We are excited to be launching the video training in 2021.

About Founder/CEO
Dr. Sara K. Schneider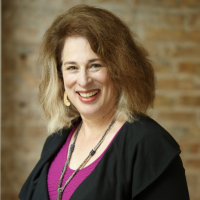 THE HUMAN JOURNEY® Founder/CEO Sara K. Schneider, Ph.D., is a cultural anthropologist, theatre maker, and organizational consultant and facilitator. She likes to say she's "an artist whose medium is groups."

Prior to committing to making THE HUMAN JOURNEY® a working reality in professional settings around the country, Sara was a theatre director, writer, and professor, and, most recently, a tenured professor in leadership studies in education. Through her teaching and consulting, she has guided hundreds of working professionals in education, healthcare, the clergy, law enforcement, and the arts to access and grow their own and their colleagues' wisdom and resources.

The idea for THE HUMAN JOURNEY® emerged from a period of personal challenge in 2012, when a three significant losses in short succession brought Sara face to face again with her expertise in narrative and performance.

The problem she set for herself: How can people get through life crises in such a way that their sharing heals not just themselves but also their community — whether that be a circle of family or "like-family" friends?

The result: The facilitated game experience THE HUMAN JOURNEY®, an "applied theatre" tool to help families and groups connected by biology, choice, or mutual support to cultivate belonging, meaning, and communication skills in advance of a loss or in the heart of other big changes.

Sara is trained as a performance anthropologist, with degrees from Yale and NYU. Her books on human performance (ART OF DARKNESS, VITAL MUMMIES, and CONCERT SONG AS SEEN) have been published by Yale University Press, Cuneiform Books, and Pendragon Press. She is the playwright-deviser/director of the plays AMERICAN YOGI, COLOR STORY, IN PEERAGE OUT, and REPREHENSIBLE SHOES. During her years in New York City, Sara was the founder and artistic director of the theatre company Chaparral Productions and taught drama and theatre in the School of Drama at University of Washington as well as at the University of Kentucky and Berea College.

She has published chapters in education, design, anthropology, and medical training books, and her insights have been featured on a variety of NPR programs and television and video productions. She consults on organizational and leadership strategy, program development, and learning and experience design to nonprofit, healthcare, and corporate clients and offers experiential training and workshops on professional skills and bringing spirituality into professional life.

Sara loves bringing it all together to train hospice workers in the United States and Canada, as well as practitioners in addictions work, chaplaincy, marriage and family counseling, social work, coaching, and nursing, to conduct THE HUMAN JOURNEY® for families and groups of support. This is the work for which all the rest was preparation.